Every blogger really wants their blogs have very high rank in SERP, so that many advertisers are willing to put up banner products to our blog. On this occasion, I will share a few tips that I use to increase google page rank. To increase page rank, we have to seek backlinks as much as possible. Here are six tips that can be used to collect backlinks in order to increase page rank blogs.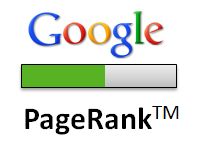 1. Write a good article and useful
Every visitor that comes to your blog is to read the contents of your article. If your article is good and beneficial for them. They will bookmark your blog or save your link. Thus, you will get a backlink from them. Therefore, please, write a good article and useful for your visitors.
2. Increase the number of pages on the blog
Page rank is not only influenced by the indexed pages, but also influenced by the number of pages on the blog. Each additional article on your blog will add inbound links (incoming links) to your blog. Therefore, please be active to write the article. But, do not want to post a lot of articles, then you copy and paste other people's articles. Because in addition to violating the ethics of bloggers, article copy and paste or duplicate content will also hated and not crawled by search engines. So, make original article with your own words. In addition, Besides it is not violate the ethics of bloggers. This method can also improve your blog's position in search engine pages.
3. Mutual Mounting relevant articles
This is almost the same as the 2nd point is aiming to increase inbound links to your blog. If you look at some of my articles. You will see there are links that point to my old article. It aims to provide a backlink to the blog page.
It is the most frequent and most widely carried by the bloggers to increase page rank. Because this is the easiest way to do, who I link You, You Link Me. Although this method is easy, but it's definitely a waste of time because we have to constantly monitor blogs with whom we exchange links. If your blog is still new, so it is an excellent way to get backlinks.
5. Comments on dofollow blogs
On the internet, there are many blogs that have adopted the system dofollow. What is meant by Dofollow blog is a blog that has been removing the attribute "nofollow" on the comment form. So, every time you leave a comment on the blog. You will get a backlink to your blog, on the condition that you have to comment using the name and address of the blog but it is not using a blogger profile. To find out what blog system has used dofollow system. Please ask to google.
6. Registering your blog to blog directories
Another way to get backlinks is to register your blog to blog directories. In addition to getting backlinks, this method can also increase blog traffic. Examples of the blog directories like Mybloglog, BlogCatalog, and others. To find other blog directories. Click Here Thus was all tips to increase your Google Page Rank, if you feel that your blog does not go up in ranking, try the tips above . May be useful. Thanks